EVENT CURATIOn
PRINT
DIGITAL
VIDEO
CULINARY DESIGN
PHOTOGRAPHY
FINE ART
'Mansfield College Ball 2016: The Doors of Perception' was a vast, immersive event curated for Mansfield College, University of Oxford.  The ball featured a 25ft geodesic dome in Mansfield's grounds, three music stages, an eight-course banquet, four bars serving premium cocktails, laser tag, a beauty parlour, shisha tent and roaming performers. Mansfield ball was sponsored by Lush, Deliveroo, Enosis Mastiha, Da Mhile distillery, Thor Drinks and Shepherd and Woodward.
For Mansfield College's (Oxford) triannual Ceremonial Ball, I curated the theme of 'The Doors of Perception'. The phrase is borrowed from the English poet and painter William Blake, via Aldous Huxley. It alludes to the capacity for extraordinary, synaesthetic engagement with reality: the possibility of seeing into a deeper level of reality.
In the combined role of Ball Committee President and Designer, I not only created the concept artwork and marketing materials for the ball, but also curated the design of the event itself. My intention was for the event to reflect the promotional artwork - or vice-versa - so closely that guests would be made to feel as if they had stepped into the artwork itself, blurring the boundary between reality and the fantasy, dreams or ur-reality created by the artwork.
'If the doors of perception were cleansed, man would see everything as it is, infinite'
— William Blake
The event theme was 'The Doors of Perception', a line taken from poet and painter William Blake's The Marriage of Heaven and Hell, in which Blake writes that "If the doors of perception were cleansed, every thing would appear to man as it is, Infinite." Our ambitions was to present guests with a truly mind-opening, perception-warping experience that would open and reinvigorate their senses. The event included an eight-course banquet of 'synaesthetic gastronomy', large-scale video projections of eyes and swirling patterns, evocative lighting, and a huge geodesic dome with live music - all set within and designed around the spectacular Gothic-revival architecture of Mansfield College.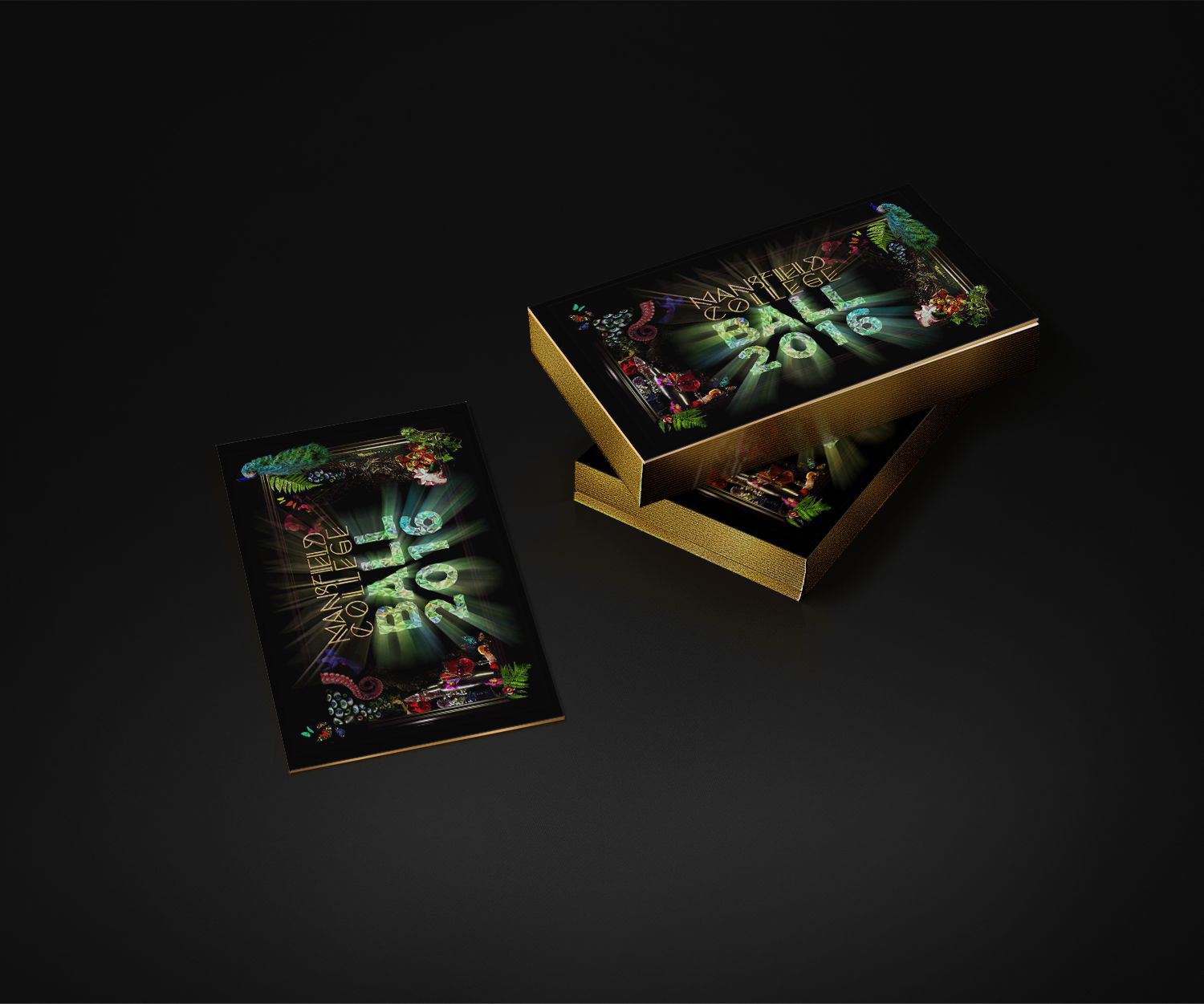 A painting spilling out of its frame, a multi-sensory cornucopia of surprising delights that speaks of a reality less ordinary.
My promotional artwork reflected the richly sensuous nature of the event, and especially referenced Blake's attention to perception, vision and heightened experience of reality. The meeting-point of these complex ideas was my 'Dream Frame' piece, with its motifs of exotic fruit, jewels, plants, flowers, mysterious animals and kaleidoscopic arrangements of glass and coloured light. This complex conceptual artwork formed the centre-piece of my creative design for the ball, and set the parameters of the visual language that I was to work within. The trailer videos, event decor, programme and menu design were all informed by the visual elements and ideas held in a state of dialectical harmony by the 'Dream Frame' concept-artwork.